Nearly 60 percent of people who do not recycle used cell phones refrain from doing so because they don't know where to recycle their devices or they don't trust that the data will be destroyed, according to an online poll conducted by Earth911 for the Institute of Scrap Recycling Industries (ISRI).
The poll was conducted on Earth911's website from June 20 to September 9, 2013 and received responses from more than 900 individuals. The results support the findings of the U.S. International Trade Commission's study that indicated only 25 percent of all household used electronics are recycled.
As consumers enthusiastically await the arrival their new Apple iPhone 5s or 5c, it is important to keep in mind the urgent need to responsibly sell and recycle old cell phones to protect their data and environment. For every 42 cell phones recycled, enough energy is saved to power an average household for an entire year.
Why Consumers Aren't Recycling Their Cell Phones
According to the poll, 21 percent of respondents say they have not recycled their old mobile device because they keep it as a backup, while 20 percent say they just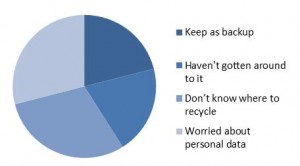 haven't gotten around to it. Thirty percent indicated that they don't know where to recycle their cell phone and 29 percent of respondents say they are worried about data security risks associated with recycling.
To ensure the personal data on your cell phone is protected, e-Cycle mobile buyback and recycling recommends consumers avoid selling their devices on eBay, Craiglist and to be very wary of online buyback companies or kiosks in shopping malls that offer to purchase used electronics devices. Often they provide no assurance of data deletion and have been known to resell wireless devices with private data still remaining. e-Cycle encourages consumers to only use electronics recyclers who do more than just a factory reset for data deletion, which does not remove all personal data. Residual personal data often remains, stored in hidden menus, even after a mobile phone has been brought back to factory settings. Be certain your recycler is doing more than a simple factory reset by asking questions and carefully reviewing their terms and conditions.
e-Cycle urges reluctant consumers to only sell or recycle their used mobile phones and tablets with an e-Stewards certified recycling company to ensure their data and the environment are protected. e-Stewards requires certified recyclers to adhere to the highest global standards of environmental protection and has stringent data security measures as part of its certification. e-Stewards certified recyclers are required to delete or destroy all the data from the devices they receive.
—————————————————————————————————
e-Cycle is the trusted wireless mobile buyback and recycling partner for many of the largest organizations in the world. As the first mobile recycling company to achieve e-Stewards certification, we adhere to the highest standards for environmental responsibility and worker health and safety. e-Cycle offers a simple, secure, environmentally responsible and profitable way for businesses to sell and recycle used mobile phones and tablets. Learn more at www.e-Cycle.com.