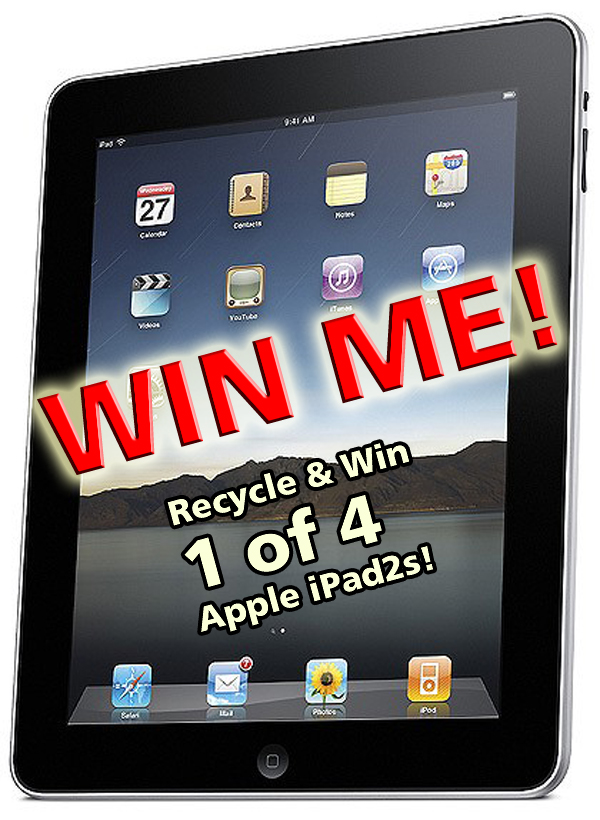 Earth Day is April 22. To celebrate, e-Cycle has declared April "National Recycle Your Cell Phone Month" to help raise awareness for the growing e-waste problem with mobile devices, and as a reminder for organizations to implement responsible mobile phone recycling programs. As an incentive, e-Cycle is offering businesses and organizations a chance to win one of four Apple iPad2s when they recycle and/or sell their used wireless devices with the company through May 31.
Entering the contest is easy:
Request a Wireless Buyback Estimate to receive a no-obligation buyback quote for your mobile devices. Remember, recycling and data deletion is always free!
Download the official entry form here or by clicking the link below
Fill out the form and include it with the package of mobile devices to be recycled.
"We have kept more than 225,000 pounds of e-waste out of our landfills through our free recycling services for our enterprise clients,  which means that millions of gallons of our drinking water have been protected from harmful toxins," said Chris Irion, e-Cycle founder and CEO. "e-Cycle has also paid more than 12 million dollars to our partner companies through our mobile buyback services, allowing them to put money back into their telecom budgets to upgrade to the latest wireless technologies.  The environmental and financial benefits of e-cycling wireless devices is clear and should be part of every organization's sustainability plan."
Irion said that e-Cycle works with nearly 7,000 organizations nationwide, including some of the largest companies in the world, and has purchased or recycled more than five million devices since 2005. He said that nearly 65 percent of the devices the company receives still retain monetary value and can be reused in secondary markets where the older technologies are still valued and needed.
In addition to the iPad giveaway contest, e-Cycle will be hosting a booth for the U.S. Census Bureau's Green IT Day in Washington D.C. on April 20, and in four cities for Verizon Wireless Earth Day promotions on April 22. More information about e-Cycle and the iPad2 giveaway contest can be found by visiting http://www.e-Cycle.com/Verizon.
EPA Mobile e-Waste Quick Facts
About 50 million cell phones are replaced worldwide a month, and only 10 percent are recycled.
Recycling one million cell phones reduces greenhouse gas emissions equal to taking 1,368 cars off the road for a year.
One cell phone has enough toxins—arsenic, mercury, and lead—to contaminate 40,000 gallons of water.
The extreme amount of lead in electronics alone causes damage in the central and peripheral nervous systems, the blood and the kidneys.
Reusing electronic devices saves up to 20 times more energy than recycling alone.
Visit www.e-Cycle.com or contact or (877) 215-5255.