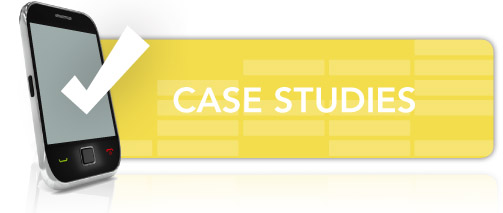 At e-Cycle, we understand that leading enterprises have critical security, sustainability, legal, logistical and financial concerns and questions that need to be addressed before initiating a responsible mobile phone asset recovery and recycling program.
e-Cycle is privileged to partner with organizations of all sizes in industries such as finance, healthcare, government and manufacturing. Our large enterprise clients include a majority of the Fortune 500 and Global 3000 companies.
While working with our clients over the years, the experienced e-Cycle team has identified and provided solutions for a wide range of issues and problems. Below are brief case studies of the many examples.
ACTIVE LINES COMPROMISING DATA SECURITY 
Problem:  
After sending mobile devices to e-Cycle, a Fortune 100 financial client notified us that they had completed their own data deletion process internally. While performing our complimentary data sanitation services, we discovered active lines were still associated with 13 of the devices.
e-Cycle Solution: e-Cycle immediately informed the client that 13 active lines were found on the mobile devices and provided a complete list of the phone numbers to be deactivated. This not only prevented a security breach, but also saved the client thousands of dollars in unnecessary carrier service fees. At e-Cycle, data security is our top priority.
.
MULTIPLE LOCATION LOGISTICS ASSISTANCE
Problem:
A top national finance company with locations throughout the United States is unable to ship all their devices at one time from one location.
e-Cycle Solution: To meet their needs, e-Cycle coordinated multiple shipments from multiple locations and dates. We provided prepaid shipping labels for fast and secure delivery. e-Cycle's experienced team provided a consolidated inventory report from every location, that included the model, condition and value of each device received.
.
A CHARITABLE SOLUTION FOR A FINANCIAL CONCERN
Problem:
A top-ranked U.S. healthcare client was interested in our mobile buyback and recycling program; however, due to their corporate policy, they were not able to accept payment for selling the organization's used wireless devices.
e-Cycle Solution: e-Cycle provided our client with a easy solution to turn their used mobile devices into significant donations for two local charities. e-Cycle wrote the checks directly to the charities on behalf of our client through the e-Cycle Foundation, and our client enjoys the benefits of tax-deductible contributions for two outstanding causes. To date, our client has donated more than $12,000 to the grateful charities through e-Cycle.
.
100 LOCATIONS—ONE REPORT
Problem:
A Fortune 100 client with over one hundred different entities and locations throughout the U.S. requires centralized reporting to their main corporate headquarters in order to track the phones sent to e-Cycle as well as the revenue received for these devices.
e-Cycle Solution: e-Cycle has the ability to provide complete reporting to businesses that have decentralized locations but require one, consolidated report. Depending on the company's needs, we can either send reports to the individual business entities or provide a master report to company headquarters. A dedicated e-Cycle account manager helped our client manage their logistical and reporting needs.
.
ELECTRONICS DESTROY ONLY POLICY—BAD FOR THE ENVIRONMENT AND YOUR BUDGET
Problem:
Due to compelling data security concerns, a large business client had developed a destroy-only policy for the company's used wireless devices.
e-Cycle Solution: e-Cycle's proven, rigorous mobile data deletion and protection processes gave our client the confidence they needed to do away with their destroy-only policy and began to generate significant revenue while protecting their data and the environment.
Bad for the environment
According to the EPA, reusing a mobile phone saves 20 times the amount of energy than recycling alone, as well as cuts down on greenhouse gas emissions. Now add in thousands of devices and your organization can make a significant positive impact on the environment. e-Cycle will provide you with quarterly environmental impact statements to measure the positive effect of your mobile phone recycling efforts.
Bad for your bottom line
Instead of paying to have a company destroy your mobile devices, e-Cycle will put money into your telecom budget by sending you a check for devices that still retain resale value. Providing complimentary data security services to our clients, we ensure complete data deletion for all mobile phones and devices.
.
CLIENT SUED FOR CHARITABLE DONATION OF USED MOBILE DEVICES
Problem:
Instead of using e-Cycle, a medium-sized business donated their used mobile phones to a local shelter and was sued when one of the cell phones did not work in an emergency.
e-Cycle Solution: Our client found that e-Cycling their business mobile phones instead of donating them not only eliminated their liability, it also provided more benefit to the non-profit organization in the form of a tax-deductible donation. The e-Cycle Foundation sends the donation on our client's behalf via check directly to the charity.
.