Whitepaper: Creating a BYOD Policy to Avoid Hidden Security Threats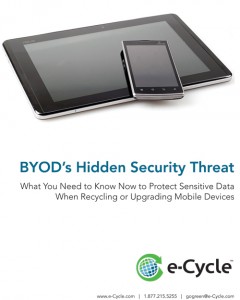 Steps to minimize data security risks
This whitepaper offers six important BYOD policy tips to ensure your private mobile data remains secure. In developing a BYOD policy for your organization, it is critical to address end-of-life wireless devices management as an important component of your plan. Whether you provide stipends, reimbursements or your employees fund all their own mobile phone expenses, it should be the responsibility of every person within the organization to ensure sensitive mobile data is not breached.
Fill out the form to download the whitepaper