Message from the CEO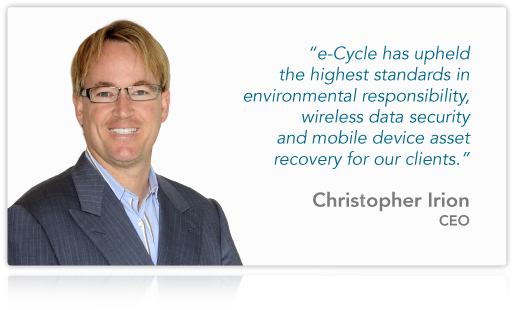 e-Cycle began in 2005 with a passion for the environment, a love of technology and a devotion to charitable giving. Since that time, e-Cycle has upheld the highest standards in environmental responsibility, wireless data security and mobile device asset recovery for our clients. We are continually developing and enhancing our business practices to maintain our status as the industry leader in our field.
We are privileged to have created lasting working relationships with the top companies in the world. As businesses better understand the potential risks of unsecured mobile devices as well as the potential rewards of wireless recycling, e-Cycle proves itself to be a strong partner among thousands of organizations. We are proud to be the market share leader of the Fortune 1000, offering our services to businesses in government, education, healthcare, manufacturing, technology and finance sectors. Providing our clients with exceptional service remains a core value of our company.
e-Cycle's continued success is due to our loyal clients who maintain a strong commitment to environmental stewardship, as well as the unwavering enthusiasm of the e-Cycle team. We are dedicated to recruiting only the most talented group of employees, managers and executives to serve our rapidly growing list of clients throughout the world. We have invested significant resources into building a company that is not just good, but great.
Innovation and change are an integral part of the technology industry. At e-Cycle, we have embraced these ideas. As we look to the future, we will continue to evolve to meet the ever-changing needs of our clients. Always striving to learn, innovate and adapt, e-Cycle will move forward and improve upon our processes to best serve our constituents.

Christopher Irion
CEO